About Nikki Garland – Bachelor of Human Kinetics, Certified Nutrition Coach & Personal Training Specialist
Helping others achieve their best self.
A bit about me: I was born and raised here on the beautiful Sunshine Coast, which is where my lifelong passion and commitment to health and fitness all started.
I was diagnosed with a degenerative eye disorder when I was eight years old – the doctors said there was no treatments, no surgeries, not even corrective lenses that would fix it (and to boot, they told me I would never drive… well at least they didn't tell me that right before my 16th birthday!)
At that moment, I knew I was going to be faced with many obstacles in my life.
There would be things I'd never be able to do, and that was hard to accept. But rather than feel sorry for myself and dwell on what I couldn't do, I focused on what I could do. I took something that was out of my control (my vision loss) and channeled all of my strength and energy into what was in my control…my mind & body. My disability gave me the drive to challenge myself both physically and mentally and not allow it to stop me from doing anything I wanted to do.
That is when my journey in fitness and sport began…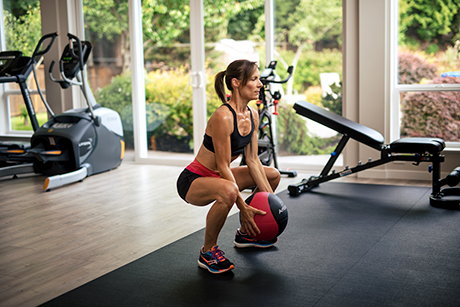 I took up running (35 years now and counting) and competed successfully in Track and Field; I was captain of the girls' Volleyball team, then completed the BCRPA Fitness Instructor certification.
My passion for health and fitness led me
to pursue my education further and obtain
a bachelor's degree in Human Kinetics from UBC.
My active lifestyle didn't cease, and I took every opportunity to challenge myself with something new – rock climbing, mountaineering, mountain biking, even tried my hand at whitewater kayaking.
I rowed competitively with the Vancouver Rowing Club and volunteered as a Ski Patrol at Cypress Mountain. I was also chosen to compete in a TV series called The Women's Power Challenge, which aired on the Outdoor Life Network & took 3rd place out of sixteen athletes (little did anyone know I had a visual impairment…I left that little tidbit off my application!)
After completing my degree and moving back to the Sunshine Coast, I had my daughter Alyssa and chose to stay at home to raise her.
I took this opportunity to further my education in the health/fitness field
and became a Certified Nutrition Coach and Personal Training Specialist.
This brings me to where I am now, following a dream and opening a private fitness studio where I can share my passion, knowledge and experience in health & fitness, and help others to achieve their best self.
Kinetic Athletics & Nutrition is dedicated to helping you achieve your fitness goals.

Your body – your life.

Services – Training Techniques – Rates & Packages – About Kinetic – Connect
Kinetic Athletics & Nutrition (604) 989-1325
Davis Bay – Sechelt, Sunshine Coast BC